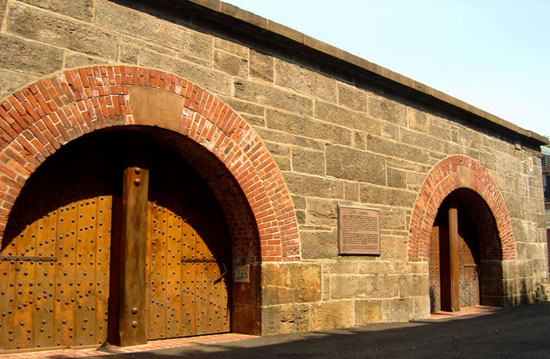 Friends
  Please be advised that the Harbor Defense Museum is currently closed for renovations. Our historic structure is now 187 years old, and we are moving forward with the complex task of replacing its roof and installing a new HVAC system. The project will tentatively be completed by the summer of 2013, and we very much look forward to seeing you then.
History
During the first half of the 19th century, the United States was compelled to expand the fortifications protecting its harbors and strategic waterways. Built between 1825 and 1831, Fort Hamilton became part of the Third System of Fortifications built throughout New York City. Today, the Harbor Defense Museum occupies Fort Hamilton's caponier, a freestanding bastion located within the fort's dry moat. Both structures are on the National Registry of Historic Places.
Collections
United States Army weapons, uniforms, small arms, cannons and accoutrements from 18th century to present.
Military themed art and historical items from Fort Hamilton.
Current Exhibitions
Battle of Brooklyn, Firepower: Infantry Weapons of World War II, In Defense of New York
Hours
Closed for renovations The museum welcomes large groups for guided tours and has a library and archive for public use.
Free admission
For Directions click here!